Television
In 1951, the early documentary series "See It Now," hosted by Edward R. Murrow, debuted on CBS. The show had a major influence on TV journalism spawning many successors, most notably of which the recurring documentary series "CBS Reports" and the granddaddy of primetime newsmagazines, "60 Minutes," which was created by "See It Now" producer Don Hewitt…Three dramas reached the 100-episode mark: "In the Heat of the Night" in 1992 (which began on NBC and ended up on CBS); the original "Party of Five" on Fox; and UPN's "Star Trek" Voyager," both in 1998. The reboot of "Party of Five" on Freeform in 2020 lasted for just one 10-episode season…Part one of two-part NBC miniseries "Fatal Vision" opened in 1984. Karl Malden won the Emmy for Outstanding Supporting Actor in a Limited Series…Happy 30th! Classic "Seinfeld" episode "The Contest" debuted on NBC in 1992. For more, click here or on image.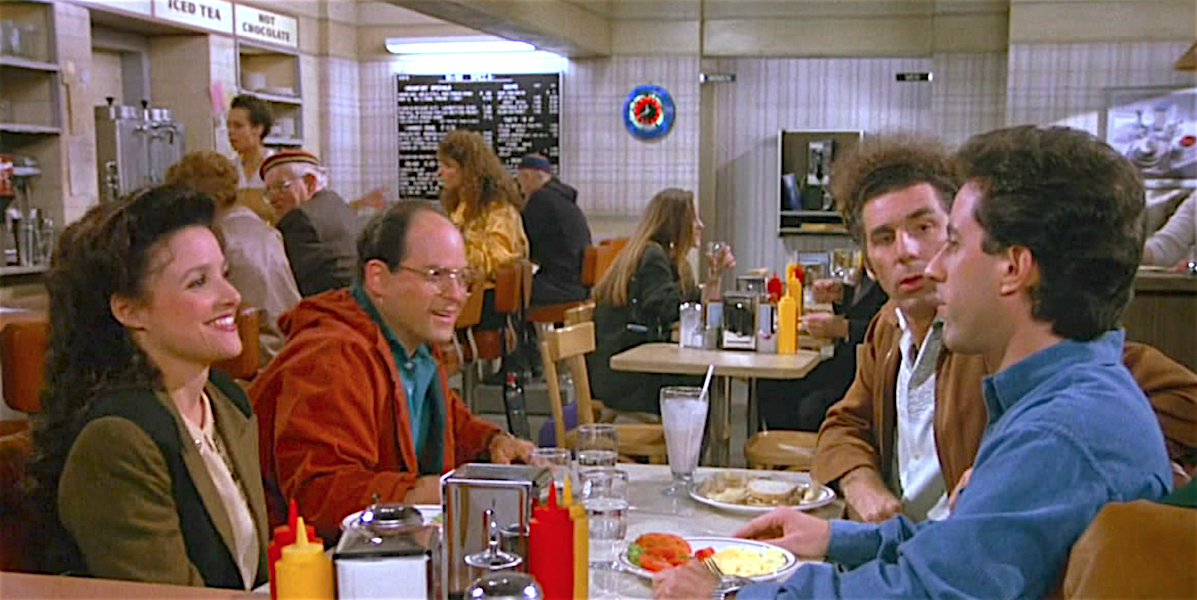 Movies:
Walt Disney's "Steamboat Willie", the first Mickey Mouse sound cartoon, was released on this day in 1928. The cartoon is considered the debut of Mickey Mouse and his girlfriend Minnie, although both characters appeared several months earlier in a test screening of "Plane Crazy.".."Ben-Hur" directed by William Wyler and starring Charlton Heston premiered in New York City in 1959. It won 11 Oscars, including Best Actor in a Leading Role and Best Director…Fiasco "Heaven's Gate" film directed by Michael Cimino and starring Kris Kristofferson and Christopher Walken opened in 1980…"Malcolm X" directed by Spike Lee and starring Denzel Washington and Angela Bassett was released in 1992…"Star Trek: Generations" starring Patrick Stewart opened in 1994…"Star Trek: First Contact" starring Patrick Stewart and Jonathan Frakes premiered in 1996.
Music:
Paul McCartney released single "Spies Like Us" in 1985…Metallica released the album "ReLoad" in 1997…"Up!," the fourth studio album by Shania Twain was released in 2002. It was named the Billboard Album of the Year.
Celebrity Birthdays:
Actress Brenda Vaccaro is 83; actress Linda Evans ("Dynasty") is 80; actress Susan Sullivan ("Falcon Crest") is also 80; country singer Jacky Ward is 76; actor Jameson Parker ("Simon and Simon") is 75; actor-singer Andrea Marcovicci is 74; singer Graham Parker is 72; actor Delroy Lindo ("The Good Fight") is 70; comedian Kevin Nealon is 69; actor Oscar Nunez ("The Office") is 64; actress Elizabeth Perkins is 62; singer Kim Wilde is 62; actor Tim Guinee ("Elementary") is 60; guitarist Kirk Hammett of Metallica is also 60; singer Tim DeLaughter of Polyphonic Spree (and Tripping Daisy) is 57; actor Romany Malco ("A Million Little Things," "Weeds") is 54; actor Owen Wilson is also 54; singer-Broadway composer Duncan Sheik is 53; actor Mike Epps is 52; actress Chloe Sevigny ("Big Love," ″Boys Don't Cry") is 48; actor Steven Pasquale ("The Good Wife") is 46; keyboardist Alberto Bof of Lukas Nelson and Promise of the Real is 45; rapper Fabolous is 45; actor-director Nate Parker ("Birth of a Nation") is 43; rapper Mike Jones is 42; actress Christina Vidal (TV's "Grand Hotel") is 41; singer TJ Osborne of Brothers Osborne is 38; "Project Runway" winner and designer Christian Soriano is 37; actor Nathan Kress ("iCarly") is 30.
Did You Know?
"Steamboat Willie" was the first Disney cartoon with synchronized sound and the first cartoon to feature a fully post-produced soundtrack (which distinguished it from earlier sound cartoons such as "Song Car-Tunes" (1924-27) and "Dinner Time" (1928)…Jennifer Love Hewitt, who was originally supposed to appear in "Party of Five" for nine episodes, was spun-off into a series of her own featuring her character, Sarah Reeves. The drama was called "Time of Your Life", and it followed Sarah as she began a new life in New York City to learn more about her biological parents. It aired for one season (in 1999-2000) and also featured Jennifer Garner, Pauley Perrette and Johnathon Schaech.