Cited by Fox CEO Lachlan Murdoch as "an exciting growth engine for the company and a key strategic platform for digital expansion and the broader reimagining of Fox's broadcast model for the future," expectations are legitimately high for Tubi, the ad-supported video-on-demand (AVOD) service acquired by Fox Corporation in 2020.
"Tubi will immediately expand our direct-to-consumer audience and capabilities and will provide our advertising partners with more opportunities to reach audiences at scale," said Lachlan Murdoch at an investor call following Fox's acquisition of Tubi in March 2020. "Coupled with the combined power of Fox's existing networks, Tubi provides a substantial base from which we will drive long-term growth in the direct-to-consumer arena."
Today, and in year two under the ownership of Fox, Murdoch is predicting Tubi will grow into a billion-dollar business. "Tubi saw increases in key metrics that exceeded Fox's expectations, he said. "In the first half of the year, unique viewers more than tripled and total view time grow by nearly 70 percent and the revenue more than doubled."
Independent research firm MoffettNathanson, in fact, predicts Tubi's advertising revenue to increase to $380 million in this year, $650 million in 2022, and $1 billion in 2023. By 2025, MoffettNathanson estimates Tubi will be driving $1.7 billion worth of annual advertising revenue. According to a research note by MoffettNathanson senior research analyst Robert Fishman, his prediction is for most of Tubi's ad revenue to be "non-cannibalizing to the other Fox networks," citing the streamer's data that approximately 80 percent of its viewers can't be reached by the top 25 cable networks.
"All the major networks have an AVOD streaming service, and Tubi gives Fox a place at the table because eyeballs are migrating to streaming platforms," noted media analyst Brad Adgate. "For Tubi, partnering with Fox puts them in the same league as competitors like HBO Max and Peacock, also with access to a robust content library. And it gives the service an advantage over the smaller standalone streaming providers that may not be top of mind when you think of these services."
"If you are an advertiser or an agency, you want to be thinking holistically about reaching your target audience on television; whether that is in the traditional linear format or through connected televisions or digital video," said Mark Roblat, Chief Revenue Officer at Tubi. "We are unapologetically devoted to an ad-supported medium. We have the lowest ad-load in the market (4 to 6 minutes per hour). We avoid duplicate ads in the same pod. And our advanced frequency management solution can reduce any potential over-frequency or repetition."
"Unlike other streaming services who use the ad-supported model to drive subscriptions, Tubi is a bona fide free service," added Roblat. "And it is tailored to the programming interests of each individual user with endless choices to choose from."
The Tubi Advantage
With over 30,000 movies and television series, all completely free, what immediately sets Tubi apart from the other streaming services is not having to pony up an additional fee. "As a number of new streaming services have entered the market, consumers are facing subscription fatigue and growing tired of mounting price hikes," said Natalie Bastian, Vice President, Marketing at Tubi. "As a completely free service – especially one that doesn't bait and switch our viewers with paywalls – we really are a complement to other services."
"You would be surprised how much you might end up spending if you choose to acquire a multiple number of streamers," added Adgate. "So, to have Tubi at your fingertips at no cost only enhances your programming options on streaming.  And the commercials are limited like they say they are."
"For consumers, our goal is to personalize the experience at Tubi," noted Roblat. "Our machine learning capabilities that we've been investing in are there to surface the best titles down to a specific level for every viewer."
A Personalized Experience
The users of Tubi who create a free account are reminded on a regular basis via email of the programming entries suited to their particular programming tastes. Available program categories include movies and TV series (all genres), Black cinema, LGBTQ, Bollywood classics, cult classics, documentary, music and concerts, foreign language films, nostalgia, news and fitness. Specifically targeted buckets include Tubi Kids, Tubi en Español and News on Tubi. And more than 250 content providers (including MGM, Paramount Pictures, Sony Pictures, Lionsgate, The Walt Disney Company, Warner Bros. and, of course, Fox Entertainment), at present, are showcasing their content to an audience watching Tubi coveted by both the advertising community and the media landscape.
With an average age approximately 20 years younger than the median age viewer on the traditional broadcast networks, an estimated half of Tubi's active users are under the age of 35. And Tubi's 2.5 billion hours streamed in 2020 marks a 58 percent streaming increase over one year earlier (which benefited, no doubt, by the availability on streaming devices like Roku, Fire TV, Apple TV and others; mobile, web and game consoles; and deals with TV providers like Comcast and Cox to offer its content). Tubi also announced a deal with TV manufacturer Hisense and another with Mexican broadcaster, TV Azteca, to provide Spanish-language content.
NewFront Announcements 
Heading into the NewFront (the digital marketplace for streamed content), Tubi's presentation on Monday, May 3, hosted by Will Arnett and featuring Erin Andrews, will address doing more in the way of sponsored integration opportunities; what Tubi is doing for consumers to drive personalization; and, of course, key upcoming programming acquisitions and initiatives.
"The Fox on Tubi content, in addition to premium Fox entertainment like "The Masked Singer" and "LEGO Masters", will be expanding this year to include sports offerings," noted Roblat. "Tubi will become one of its destination platforms for NFL content."
Included will be streams of condensed game reruns, was well as various VOD components of league coverage.
Recognizing the value of diversifying its programming platform to cater to an audience of all ages, one of the goals this year was to beef up its anime offerings. The streamer has entered a content deal with Shout! Factory for a variety of anime titles at including "Liz and the Blue Bird", Eleven Arts Anime Studio's "Millennium Actress" and, in 2022, "In This Corner of the World."
Additionally, Tubi has exclusively acquired the Anpanman superhero-themed franchise from TMS Entertainment. Ten movies will be offered with the first, "Apple Boy and Everyone's Hope," now available for streaming.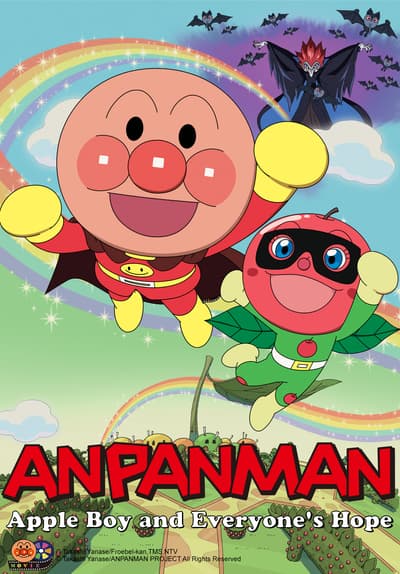 Tubi has also entered into a licensing agreement with Toei Animation, the anime studio and pioneer in Japanese animation. The deal includes seven current television series (totaling nearly 500 episodes), six TV specials, and a library of classic anime titles (including "Toriko", "Slam Dunk", and "Dr. Slump"). And fans of classic television will now have animated "The Flintstones" and "Scooby Doo" among their viewing choices.
Baby-boomers, of course, recall the value of children's series "Barney & Friends" which kept their then young children enchanted for endless hours. And, now, these same individuals who are now adults, many with children of their own, have six seasons of the perennially smiling purple dinosaur and company ready to entertain their offspring.
Additionally, Tubi, has expanded its "News on Tubi" offering in the U.S. "This year we will carry nearly 100 local station feeds and 58 DMAs (designated market areas)", noted Mark Roblat. "We feel this is the most robust local news offering of any AVOD service."
The live local news feeds include television station owners including Cox Media Group (CMG), Hearst Television, Scripps and TEGNA; and access to 24 of the top 25 markets.
"From a Fox sales standpoint, we come together as part of the Fox portfolio when we are selling to advertisers in the upfronts and the NewFronts, and for some of our strategic integration and partnership opportunities," noted Roblat. "That said, we are confident our momentum will continue as we aggressively continue to beef up our programming offerings."
Talks, meanwhile, are underway for Tubi to start funding original programming following this year of record growth. Stay tuned.