From December 10 and 17, 2019, Programming Insider's Douglas Pucci was a guest on Northern Iowa's Y100.1 FM with deejay Scott Nolte to discuss the best and worst TV offered in 2019.
First, we'll focus on the top five worst shows of 2019 in our opinion.

Douglas' #5 — Abby's (NBC)
NBC took the biggest chunk of my worst top ten (6-The InBetween, 7-Perfect Harmony, 8-Carol's Second Act (CBS), 9-The Enemy Within, 10-Bluff City Law), but the highest ranking of the NBC shows comes in at No. 5. This is a "comedy" that was released earlier in the year. I say "comedy" in quotes because I don't think it was so much of a comedy. It's called "Abby's", set in a bar, wanted to be like "Cheers" and it had the fakakta idea being unique that they filmed outdoors, in an outdoor studio. So whatever laughter that the show seemed to want to have, it got drowned out being in an outdoor venue. No laughs to be found, at all. It just a waste of time and it barely registered any ratings on NBC

Douglas' #4 — Fear the Walking Dead (AMC)
My worst show of cable on 2019… for a long time, a huge fan of "The Walking Dead". But in recent years, that show went to the crapper creatively. But that's not the show I mentioning: the show I'm mentioning is its evil son and that is "Fear The Walking Dead". The show was basically born out of a money grab. It does decent ratings, but in terms of content, in terms of creativity, it just lacks in all aspects there. In a show about zombies, there are barely any zombies on "Fear The Walking Dead", Its villains aren't that mean. There's really no sense to it.

Douglas' #3 — The World's Best (CBS)
This show will go down as one of the most short-lived post-Super Bowl shows in TV history. CBS thought that they hit a home run when 22 million viewers watched this reality competition, but soon after, Americans realized we don't need another "America's Got Talent"-type of show. That show was called "The World's Best" hosted by James Corden. Sure enough, we're not going to see "The World's Best" anytime soon. To me, it was the world's worst.

Douglas' #2 — The Romance Shows of 2019: Paradise Hotel (Fox), A Double Shot at Love with Vinny & Pauly D (MTV), Love Island (CBS)
No. 2 is sort of a cheat here because I grouped them all in one particular category: the romance shows of 2019 Three of them, in particular: the revival of "Paradise Hotel" on Fox. This came and went back in the summer. The original two runs, they barely lasted a few months. At least Fox had the wherewithal to end this within just one particular month back in May. Hosted by Kristin Cavallari.
Also in the spring, MTV, got into the revival gig with "A Double Shot at Love", only this time they involved the two from "Jersey Shore," Pauly D, and Vinny.
And then, to top it all off in the summer, CBS had the gall — the gall! — to feature "Love Island" five nights a week!
No bueno.
And my number one worst show of 2019…

Douglas' #1 — The Fix (ABC)
I actually had high hopes for this show. This was highly touted as this huge gripping, gritty legal drama on ABC in the spring, but it turned out to be just an unintentional laughable mess and that show was called "The Fix". It's about a Los Angeles district attorney. She lost the case to this celebrity who was accused of double murder. She escaped to the Washington boondocks, but then she finds out that the same celebrity, in present day, with accused of murder of his girlfriend, She comes back to L.A., and she takes over as the lead prosecutor in the case. Not great acting here and the plot… you can see what's about to happen from miles away.
Scott Nolte's Worst of 2019
#5 — Carol's Second Act (CBS)
#4 — Fam (CBS)
#3 — Paradise Hotel (Fox)
#2 — The Hills: New Beginnings (MTV)
#1 — BH90210 (Fox)
It just seemed really, really cheesy, put-on and fake. It didn't remind me of the original series and I was kinda hoping for more.
And now, Douglas' best shows of 2019:
#10 — The Kids Are Alright (ABC)
#9 — Brockmire (IFC)
#8 — The Conners (ABC)
#7 — Superstore (NBC)
#6 — Watchmen (HBO)

#5 — Evil (CBS)
It debuted in the fall and it's proved that broadcast network TV isn't all that formulaic or by-the-numbers. This one kind of pushes the boundaries of that: it's "Evil" on CBS. This is a drama about a skeptical psychologist who teams up with a priest in training and a contractor and they investigate these mysteries for the church. Being on CBS, there is a procedural nature to it, but it's very different, especially from what CBS usually offers — just the way that these characters interact. Very well done.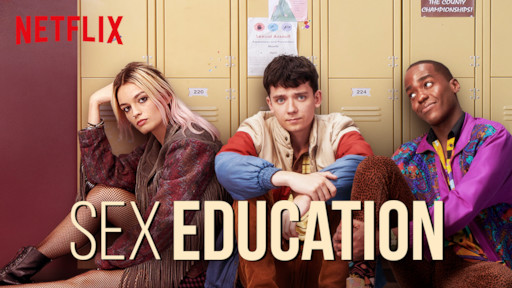 #4 — Sex Education (Netflix)
It's a Netflix show called "Sex Education". This debuted back in January. It's about a nerdy teenager who's roped in to becoming a pseudo sex psychologist for his high school friends. His mother's played by Gillian Andreson, formerly of "The X-Files"; she's the real sex psychologist. Although it takes place in the United Kingdom, it's pretty much an homage to the 80's high school movies like "Fast Times at Ridgemont High", "The Breakfast Club", all those John Hughes movies back then. Very funny. I can't get enough of how enjoyable this show is

#3 — The Marvelous Mrs. Maisel (Amazon)
The third season just premiered this month and it's still one of the best shows on TV. "The Marvelous Mrs. Maisel" on Amazon. Stars Rachel Brosnahan as a recently divorced mother of two children who got cheated on by her husband and winds up as a stand-up comedian in the mid 1950s. So many great characters, great writing. The dialogue is very quick. An enjoyable world to see as this Mrs. Maisel character tries to succeed

#2 — Killing Eve (AMC/BBC America)
The spy drama that was originally on BBC America, but this year, the second season, it aired on AMC in simulcast. This stars Sandra Oh as Eve, an American agent who works for a British special operation to track down an assassin named Villanelle (Jodie Comer). Comer just won the Emmy Award for Best Actress in a Drama this year. Eve and Villanelle go back and forth trying to chase each other. Overall, the show itself is very quirky, very offbeat (you see a theme here with a lot of my favorite shows), very intriguing. They call it a drama, but they've really upped the comedy.

#1 — Stranger Things (Netflix)
The closest thing that TV has to a summer movie blockbuster is the show whose third season actually debuted on July 4th. And that show is "Stranger Things", the Netflix show about a group of kids that battle these monsters from the Upside Down. They really went all out this year to put out a tremendous product. All these characters are now coming of age. It is yet another Netflix show (on my year-end favorites list) to pay great homage to the 80s; here, it's to "The Goonies", "Poltergeist", "E.T." With great action and a lot of humor, it really topped itself.
Scott Nolte's Best of 2019
#10 — The Titan Games (NBC)
#9 — American Horror Story: 1984 (FX)
#8 — Batwoman (CW)
#7 — The Challenge: War of the Worlds 2 (MTV)
#6 — The Unicorn (CBS)
#5 — Sex Education (Netflix)
#4 — The Good Place (NBC)
#3 — GLOW (Netflix)
#2 — Prodigal Son (Fox)
#1 — Stranger Things (Netflix)